9.5.2023
ETSK:n konferenssi puurakentamisesta 9. kesäkuuta Tukholmassa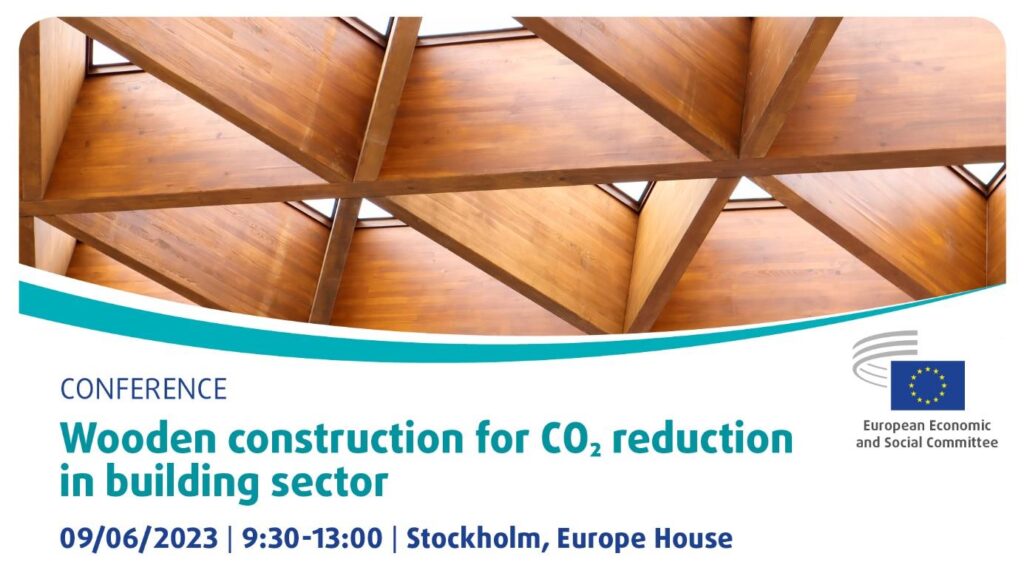 The European Economic and Social Committee (EESC) has looked into the advantages of modern industrial wooden construction at the request of the Swedish Presidency of the Council of the European Union. In March 2023, the EESC adopted an exploratory opinion focusing on how EU proposals such as sustainable carbon cycles, the bioeconomy strategy and the New European Bauhaus can be used to drastically reduce the huge amounts of construction-related CO2 emissions, store CO2 and make construction more efficient.
The conference will present the main conclusions of the EESC's exploratory opinion on Wooden construction for CO2 reduction in building sector and will further discuss the potential of timber construction in line with the EU's goal of climate neutrality with local experts, representatives of the wooden construction sector and civil society organisations. The conference will focus on innovative wooden construction and the supply of wood for timber construction in Sweden; the role of certifications and regulations; active and sustainable forest management and EU's forest policy; the changes in the organisation of work and skills due to the technological and material changes and will highlight the innovative use of wood in the construction sector by showcasing projects, especially in relation to the New European Bauhaus.
The conference will be organised in the framework of the Swedish Presidency of the Council of the EU. It will take place from 09:30 to 13:00 on 9 June 2023 at the Europe House in Stockholm. Simultaneous interpretation will be available in English, French, German and Swedish (spoken).
PROGRAM
09:30 | OPENING SESSION
Baiba Miltoviča, President of the Section for Transport, Energy, Infrastructure and the Information Society (TEN) of the European Economic and Social Committee (EESC)
Annika Wäppling-Korzinek, Head of Representation of the European Commission in Sweden
09:40 | KEYNOTE SPEECHES
Helene Holstein, Deputy Director General, Ministry of Rural Affairs and Infrastructure, Swedish presidency of the Council of the European Union
Laurenţiu Plosceanu, Vice-President of the EESC, President of the EESC study group on Wooden construction for CO2 reduction in building sector
10:00 | PRESENTATION OF THE EESC OPINION
Rudolf Kolbe, Rapporteur of the EESC opinion on Wooden construction for CO2 reduction in building sector
Sam Hägglund, EESC co-rapporteur on Wooden construction for CO2 reduction in building sector
Debate
10:45 | COFFEE BREAK
11:15 | PANEL DISCUSSION
Moderator: Rudolf Kolbe
Guest speakers:
Susanne Rudenstam, Träbyggnadskansliet (Swedish Wood Building Council), Director
Peter Holmgren, CEO of Future Vistas
Jesper Lindholm, The European Federation of Building and Woodworkers, Wood Workers Union GS
Bernhard Egert, UBM Development, Spokesperson of the Austrian Timber Construction Platform
Uwe Kies, InnovaWood, Secretary General (tbc)
Debate
12:45 | CONCLUSIONS
Laurenţiu Plosceanu, Vice-President of the EESC, President of the EESC study group on Wooden construction for CO2 reduction in building sector
13:00 | LUNCH OFFERED BY THE EESC FOR THE PARTICIPANTS
Ilmoittautuminen: : https://www.eesc.europa.eu/en/agenda/our-events/events/conference-wooden-construction-co2-reduction-building-sector