24.5.2022
Pikku-Finlandia
Built near Töölönlahti Bay, Pikku-Finlandia provides a temporary venue during the renovation of Finlandia Hall between 2022 and 2025. In the spirit of the circular economy, Pikku-Finlandia can be moved and reused as a school, daycare centre, or other service facility once the renovation is over. The building components and materials are reusable or recyclable.
Read the article in Finnish: Pikku-Finlandia
When the City of Helsinki began planning to renovate Finlandia Hall in 2019, it identified a number of requirements for a temporary venue that would allow the continued hosting of events. Placed right next to Finlandia Hall, this venue needed to be an aesthetically pleasing addition to the urban landscape and reconfigurable for everything from small scale meetings to hosting events for up to a thousand people. Additional requirements were that the venue had to be ready by 2022, it had to be cost effective, and it had to fit in with the city's goal of being carbon neutral.
– Since Finlandia Hall was designed by Alvar Aalto, it seemed natural to bring architecture students from Aalto University into the design project. We needed fresh ideas and insights into using wood, and the Aalto Wood Program was ready to provide them, says Merja Ikonen, who serves as project manager for the City of Helsinki.
In fact, the City of Helsinki, Finlandia-talo Oy, and Aalto University collaborated in autumn 2019 on a university course to find a feasible design for a wooden temporary venue. When the two-stage competitive design course came to an end, Jaakko Torvinen's proposal – entitled Finlandia Forest – was selected as the winner.
The design was then further refined by a team that included students Elli Wendelin, Havu Järvelä and Stine Pedersen in addition to Torvinen. Torvinen, Järvelä and Wendelin were kept on as Pikku-Finlandia architects, working in collaboration with Professor Pekka Heikkinen and Arkkitehdit NRT. A reference design was drawn up in spring 2020 to provide a basis for the call for tenders. FM-Haus Oy was selected, and the contractor was then included in the construction planning that began in late 2020.
Nature's design language
– The idea of Pikku-Finlandia is to bring the forest to the city and to remind everyone how Finnish conifers can be used in structures just as they are, says Jaakko Torvinen.
– The venue echoes nature's design language: the load-bearing pillars are pine logs that retain their branches. This creates a unique atmosphere and breaks up the lines in an otherwise angular building, highlighting the fact that Pikku-Finlandia is indeed made of wood.
Pikku-Finlandia has a 123 metre long facade on the Töölönlahti Park side. The pine pillars form a colonnade that disrupts the otherwise lengthy lines and creates a smaller open urban space on the edge of the spacious park. On its Töölönlahti Bay side, Pikku-Finlandia also has a covered terrace looking out over the water.
The building has a gross area of 2,700 square metres, of which approximately 2,000 square metres serve as customer space. The colonnades of the park side facade shelter the main entrance, which feeds into a lobby that resembles its own small, dense forest. Visitors can even lean against the trees. Pikku-Finlandia has four multifunctional halls laid out on both sides of the lobby. By moving the partitioning walls, three of these halls can be connected with each other and to the lobby. Visitors can also walk along a forest trail-like corridor to the wine bar/café on the other end of the building, where pine pillars create an intimate space. Glass facades blur the line between interior and exterior.
Low carbon and reconfigurable
– Because being low carbon was the goal from the start, we went with a wooden building. Following circular economy principles, the building will be reused in future as a school, daycare centre, or other service facility, says Merja Ikonen.
– The speed at which a prefabricated wooden building can be built and dismantled also worked in its favour.
The design of the structural and technical systems of Pikku- Finlandia allows it to be reconfigured and relocated. When its use at Finlandia Hall comes to an end, the large wooden structural elements can be taken apart whole, moved, put up elsewhere, and modified with a reasonable effort to meet the technical and functional requirements of whatever its next use will be. The building components and materials are reusable or recyclable.
The building has two technical and utility spaces, which can be seen in the exterior architecture as rectangular masses on the roof. There are also two rooms for air conditioning equipment, which means the current building can later be split into two separate buildings, if desired. The seams between the prefabricated elements have not been hidden from view. Instead, the connections are neatly done with screw fasteners that will also make eventual dismantling easier.
– The pine trees for the building's pillars were selected from a private forest in Loviisa in January 2021. A local lumberjack carefully cut them down while making sure the largest branches weren't damaged. The trees were then delivered to Timberpoint, which removed the bark and phloem layers using pressure washing and cut the logs to length, says Torvinen.
Torvinen documented all 95 pines used in the building and created a plan for where each individual tree would go in the building and the direction that its branches would point. In addition to the pine pillars and their branches, Pikku-Finlandia also makes extensive use of different wood construction products such as CLT walls, LVL lattice panels, and glulam beams, columns, substructures and trusses. The cladding on the facade is grooved and glazed spruce panel. The terrace planks are untreated Siberian larch.
Technical solutions
Pikku-Finlandia is a single-storey multifunctional venue that has its technical facilities on a second floor. It was built with wooden volumetric elements on a steel pile foundation. Solid wood exterior walls and partitions serve as the stiffening structures, supplemented by horizontal structures in the subfloor and ceiling that distribute the horizontal loads to the stiffening walls. Following the principles of sustainable construction, the building's roof and canopy shelter the exterior walls.
Pikku-Finlandia has a P2 fire class and a fire resistance requirement of REI30/R30. The building has been divided into two fire compartments and is equipped with fire hose reels and fire extinguishers appropriate for the premises and also has an automatic fire alarm system. The walls and ceiling of the main room have a surface class of at least C-s2, d1. The CLT walls and glulam beams are surface treated with fire retardant.
During this first phase of use, the building's E-factor is 84 kWhE/(m2 year).
Construction started in April 2021, with the first volumetric elements going up in June. The building was finished in early 2022, and has a planned lifecycle of 30 years
Torvinen and Wendelin also wrote their Master's thesis on Pikku- Finlandia "From Finlandia Forest to Pikku-Finlandia – design for a transportable wooden building". The thesis is available at: https://aaltodoc.aalto.fi/handle/123456789/108375
CREDITS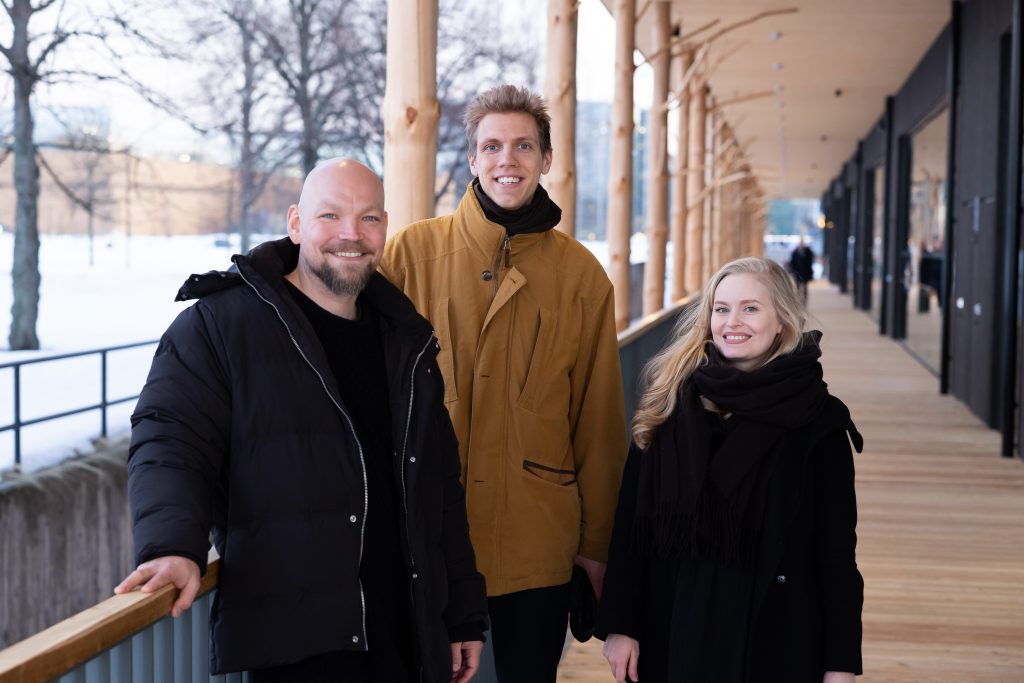 Architect Jaakko Torvinen graduated from Aalto University in 2021. His thesis work centered on the development and construction of the Pikku-Finlandia event centre. Today, he teaches at Aalto University in the chair of wood construction while also working as an architect.
Architect Havu Järvelä graduated in 2021, his thesis focusing on the reuse potential of demolished building stock resources. Alongside active design work, he is a teacher at Aalto University both in the chairs of housing design and resource efficient construction and environmental impacts. Järvelä strives
towards establishing a circular architecture practice and is a founder of Keltainen toimisto.
Architect Elli Wendelin, graduated from Aalto University in 2021, completed her thesis work as a case study of Pikku-Finlandia, focusing on the footprint calculation for temporary and transportable wooden constructions. Currently, Wendelin works as an architect in Helsinki, broadening her professional scope
into renovation architecture.
Project in brief
Pikku-Finlandia
Location |

Helsinki

Purpose |

Finlandia Hall's temporary event venue

Constructor/Client |

City of Helsinki, Urban Environment Division / Mika Heimala, Erkki Huitti, Merja Ikonen

Valmistumisvuosi |

2022

Floor area | 2 675 m2
Total area | 2 720 m2
Volume | 15 450 m3
Investointikustannukset |

9.6 million €

Architectural Design |

Architects Jaakko Torvinen, Elli Wendelin and Havu Järvelä in collaboration with architect, Professor Pekka Heikkinen and Arkkitehdit NRT Oy, Contractor's architect: Arkitektrum Oy

Structural design |

Insinööritoimisto Asko Keronen

Akustiikkasuunnittelu |

Akukon Oy / Olli Salmensaari

Palotekninen suunnittelu |

L2 Paloturvallisuus Oy / Sini Kallio

LVIA-suunnittelu |

Granlund Oy / Niina Erkkilä, Joel Virtanen

Electrical design |

Granlund Oy / Topi Volama, Juhani Mikkonen

Muut suunnittelijat ja asiantuntijat | Foundation and subfloor design: Sweco Oy / Sami Haapalainen
AV and presentation engineering design: Granlund Oy / Ilkka Paloniemi
Landscaping design: Näkymä Oy / Tiina Perälä
Transportation design: Sitowise Oy / Jaana Virtanen
Kitchen design: Saircon Oy / Olli Koskinen
Pääurakoitsija |

FM-Haus Oy

Muut rakennusliikkeet | HVAC contractor: Hava Oy
Water & sewage contractor: Humppilan Putkiasennus Oy
Electrical contractor: Karppelin Oy
Earthworks and foundation contractor: VRJ Etelä-Suomi Oy
Wood component supplier |

Wood component supplier | Pine pillars: Timberpoint Oy, CLT elements: Crosslam Oy

Muut materiaalit | Floor coverings: Cork plank, Amorim Wise, Korkkitrio Oy
Facade surface treatment | Grooved spruce panel, glazed
Photographs |

Mikael Lindén, Mika Pollari, Kimmo Räisänen

Text |

Jaakko Torvinen, Merja Ikonen and Puuinfo